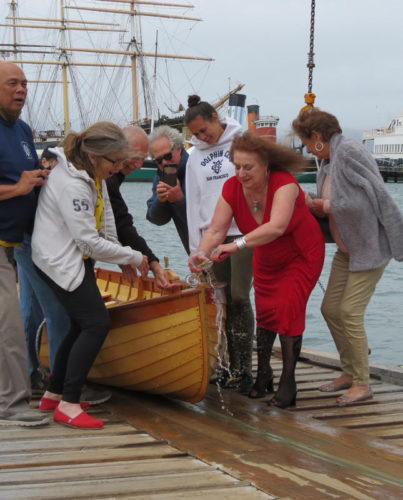 The new single Whitehall "Commodore", named in honor of Lou Marcelli, the beloved caretaker of the Dolphin Club, was launched Saturday afternoon, August 6th. The boat was christened, appropriately, with a splash of Martini by Lou's sister, Frances Real and Lou's long-time companion Cynthia Coppi, before being taken on her maiden voyage around the cove with Julia Hechanova on the oars and accompanied by a fleet of single Whitehalls.
The Commodore was built at the Northwest School of Wooden Boat Building in Port Townsend, WA and a contingent of the builders made the journey to San Francisco to attend the launching. Instructors Leigh O'Connor, Ray Speck, Ben Kahn and Sean Koomen were among the fine boatbuilders witnessing the launch.
Many members of Lou's family were present to celebrate the event.