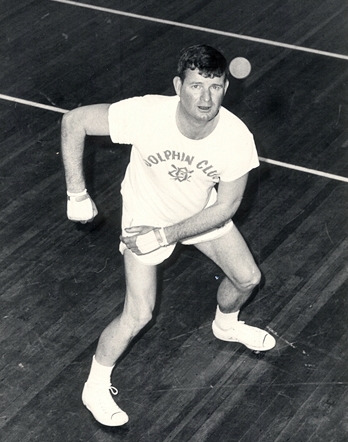 Handball has a long and storied history at the Dolphin Club. Our four-wall court opened for singles and doubles play in 1912; by 1958, one in five members was a handball player. (One of them was Tom DiMaggio, brother of baseball great Joe DiMaggio.) 
Although handball was once an exclusively male sport, that's no longer the case. In addition to participating in novice clinics, a pod of Dolphins (Erin Figel, Mee Lee, Linda Mahnken, and Diane Walton) participated in the SERC-hosted 2018 Ladies Handball Tournament – the first such tournament on the West Coast. This enthusiasm for women's handball has bounded over to the Olympic Club, too, and Dolphin women have joined in friendly matches hosted at the winged O's courts.
Even though most of the players had no previous experience with handball, they are enjoying it now. "Anyone can excel at handball." says Tom Sove, President of the Northern California Handball Association. "You can be short or tall, old or young …People play for health reasons, for competition, and for the camaraderie." Friendships generated from handball is a theme that comes up often when chatting with handballers. "When I'm out on the court, I'm all business; but off the court I've made friends for the rest of my life. It's one of the coolest parts [of the sport]," says Tracy Davis. Dolphins Dick Keltner and Paul Brady are themselves a testimonial to handball camaraderie, having played together for nearly 30 years.
If you are intrigued by handball, commissioner Mickey Lavelle welcomes members to contact him. The best way to reach him is by giving him a call. His number is on the chalkboard by the court.
Fun. Exercise. Camaraderie. That's handball.
Dolphins on bicycles? From those who break out the bikes annually for the Escape, to everyday commuters using the bike racks out back while they row or swim or workout in the weight room, to highly competitive triathletes, to dedicated cyclists, we welcome Dolphins on bicycles every day.
Our main running events of the year are the annual Walt Stack Challenge, DC vs. South End triathlon and EFAT (Escape from Alcatraz Triathlon). The Walt Stack Challenge happens every year after Polar Bear swim season and before the 100 mile swim challenge for the Summer, the dates are from March 22nd to May 31st. Walt Stack was one of Dolphin Club's most beloved members and was an avid runner, his motto for running was "Start slow then taper off" which we love and try to abide by. To accomplish a 'Tall' Stack you have to run 225 miles during that time period and a 'Short' stack is 100 miles during the same period. This is a fun challenge and a great way to stay motivated in between swim events. Our annual DC vs. South End triathlon is a swim, run, row event that we do every Fall. It is a heated rivalry and always very fun, the run is from Dolphin Club to Fort Point and back. The EFAT race is the hardest running we do, the run portion of the race is a double Dipsea! The Dipsea Trail is the oldest trail race in America and is about 14 miles and ~4,000 feet of elevation gain (for the double), it is absolutely brutal and we love it! This run comes after doing an Alcatraz swim and biking to Mill Valley! Dolphin Club welcomes all runners new and old and we love getting together for training runs throughout the year as well.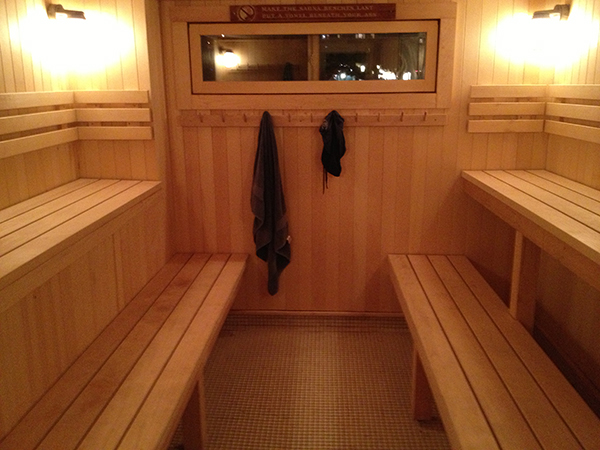 The saunas are considered by many as the heart and soul of our club. They are located in the men's and women's locker rooms and both are heated with powerful Harvia electric stoves from Finland which are filled with over 50 pounds of Finnish quarried rock. The temperature varies between 160-200 degrees F with relatively low humidity. Both saunas fit eight bathers comfortably. The men's sauna was beautifully renovated in 2015 by John Hornor and crafted with tiered Port Orford cedar benches and lined with aromatic Alaskan yellow cedar panels.Bathed in soothing heat, surrounded by nurturing wood, the womb-like quality of the Dolphin saunas encourages soulful and meaningful conversations and makes swimming in the cold waters of the Bay bearable. If only the walls could talk. (Actually, it is good they can't!)
Special thanks to: Hank Willianger for building the first Dolphin sauna in 1965 and Bob McKenzie for building the original sauna on the women's side, and Archimedes Banya and Mikhail Brodsky for donating the Harvia stove on the men's side and to TK for donating the stove on the women's side. Bradford Adams and John Hornor installed the new heater and controls in both saunas.
[Excerpted from 'Dolphin Club Saunas: The Heart and Soul of our Club' by Dolphin Club member Mikkel Aaland. For more information on sauna and sweat bathing culture visit Mikkel's comprehensive site, Sweat.]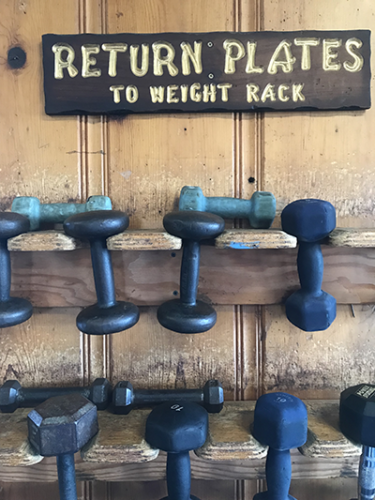 The weight room, once our dining room, is a room with a view. It has everything from free weights, barbells, dumbbells, and kettlebells to spin bikes and plate-loaded machines. Rowing machines are in the boathouse, and often rolled out onto the deck.