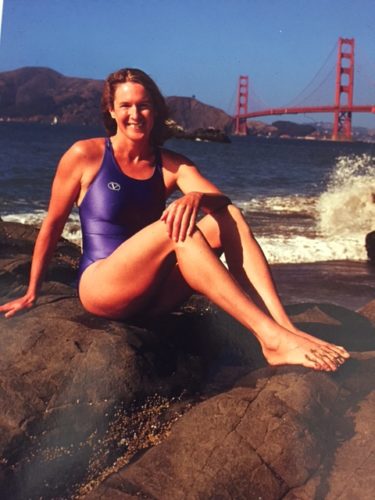 Suzanne Heim keeps setting goals, reaching them, and setting new ones (swimming the length of  Lake Tahoe at age 62 years old). It's what makes her such a great advocate for kids, and it is what makes her such an inspirational swimmer. A life member and active contributor of the Dolphin Club—serving on the Board of Governors and the Dolphin Swimming and Boating Foundation, she joined the Club at 20. At 24, she was the first person to swim Bay-to-Breakers, a 10 mile swim from the Bay Bridge, across the Bay, under the Golden Gate Bridge, and out to Ocean Beach. She's a Hall of Famer, has swum the English Channel three times, has won the annual Golden Gate swim ten times, was a member of the International Three Way Relay (EC/France/EC/France) that broke a World Record and  has set numerous FINA Masters World Records from 100m – 1500 m Free in multiple age groups.  In 1988 Suzanne was Team Captain of the United States Swimming Long Distance National Team,  Long Distance Swimmer of the Year — winning a Silver Medal at the FINA World Championships swimming the width of  Lake Geneva.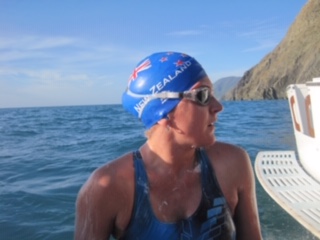 Kim Chambers 
is a marathon open water swimmer from New Zealand and an extraordinary human being. She was the sixth person, and third woman, to complete the Ocean's Seven (Cook Strait, English Channel, Tsugaru Strait, Catalina Channel, North Sea Channel, Strait of Gibraltar, Molokai Channel) swimming challenge. In 2015, she became the first woman to swim from the Farallon Islands to the Golden Gate Bridge. Kim is the first and only New Zealand woman to be inducted into the International Marathon Swimming Hall of Fame in 2019.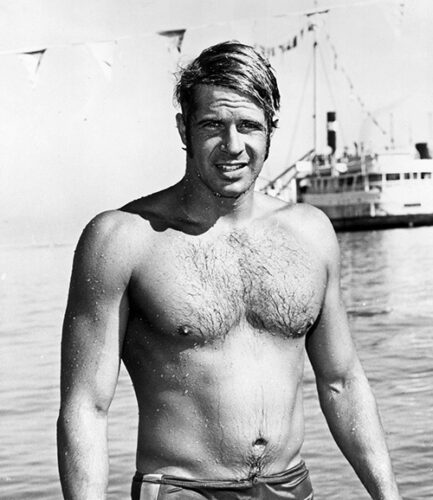 Mike Garibaldi joined the Dolphin Club in August 1972 and was an unbeatable open water swimmer for two decades. He holds the record of thirteen victories in the club's annual Golden Gate Swim. Mike also captained our men's team to wins in the 1979 Lake Tahoe and Maui Channel Relay races. In the 1970's he set several national Masters Swimming age group records. The Masters International Swimming Hall of Fame inducted Mike Garibaldi in 2004 as a water polo player, coach, and for his role in organizing the first US National Masters Water Polo Championship. He was also inducted into the USA Water Polo Hall of Fame in 2011. Mike served on the Dolphin Club Board of Governors and is now a Life Member..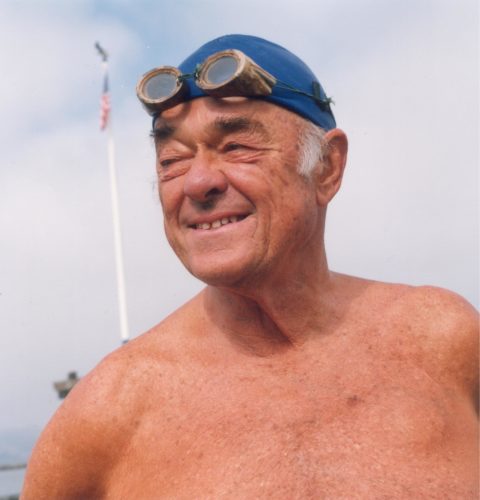 Walt Schneebeli, a true San Franciscan, born in 1925, joined the Dolphin Club in 1948. He quickly became enthusiastic about all club activities, especially swimming. An inspiration to all, Walt swam the Golden Gate fifty years after his first crossing. Walt devoted countless hours of his life researching, collecting, and preserving Dolphin Club records and photographs. He contributed more than fifty articles for the Dolphin Log. After serving nine years as Recording Secretary, Walt was declared the official Club Historian in 1976, a position held with full devotion until his passing in 2017 at age 92..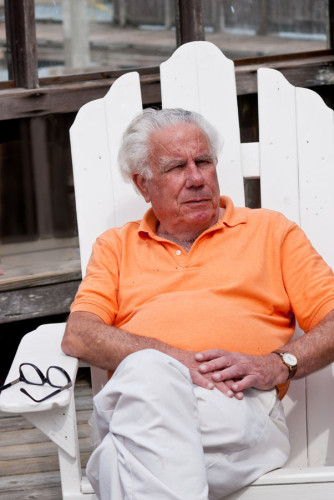 Lou Marcelli became the "commodore" of the Dolphin Club in 1973 and, in the decades following, a beloved presence, dishing out advice on life, love, the weather, baseball and fishing. He was a passionate cook  and and famous for his recipe for Calamari Pasta, which was featured on the Food Network. Lou was born in Collinsville and grew up swimming in the Sacramento River Delta. He also had a part-time acting career and was featured in commercials in the US and Europe. His grandparents hailed from Palermo, Italy, and his father was a Bay Area fisherman. After graduating from Rio Vista High, Lou moved to Telegraph Hill at the height of the beatnik era and helped manage a North Beach bar called Dino and Carlo's. For extra cash, he fished in the summers with his brother on salmon boats in Alaska. He began swimming in Aquatic Park in 1943 and became a Dolphin in 1965. Lou died in October 2013 and was honored with a grand memorial at the Dolphin Club.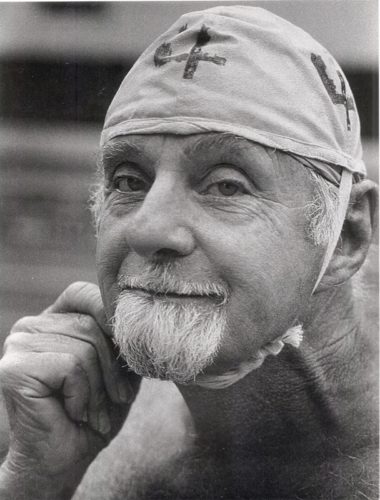 Joe Bruno holds the club record of 61 consecutive Golden Gate Bridge swims. A retired sheet-metal worker for Michele/Phieffer Iron Works, Mr. Bruno was born in San Francisco's North Beach in the year 1913.  As a young man, he played sandlot ball with baseball great Joe DiMaggio. Mr. Bruno's last Golden Gate Bridge swim was on Sept. 11, 1993.  He was 81 years old at that time. There were 62 swimmers, and he finished No. 57.  His time was 41 minutes and nine seconds, which Lou Marcelli said was the world record for a Golden Gate Bridge swim for a person over 80 years old. Marcelli added: "I would say Joe's 61 consecutive bridge swims are probably a world record, too — with no one coming close to it — but we can't say that for sure." Joe Bruno died at the age of 91 in 2004.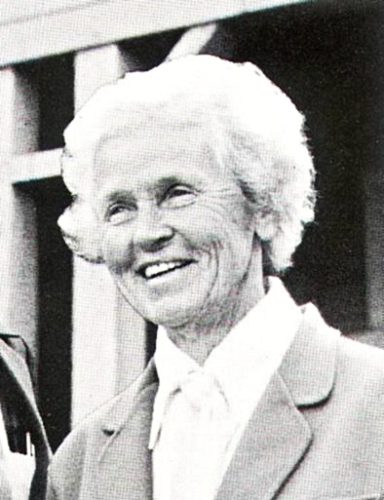 Zada Weed Taft first swam the Golden Gate at age sixteen with the Dolphin Club in 1937, the year the bridge was completed. Her coach, the renowned Charlie Sava, was a Dolphin Life Member. Zada would recall, "I'd ring the bell, and someone always let me in." She married Ray Taft in 1941. Ray joined the Dolphin Club in 1953. In October 1976, at long last, Zada was one of the very first women to join the Dolphin Club. She also became a South Ender some years later. Zada and Ray started a swim school and co-founded the San Mateo Marlins club in 1970. As pioneers of Masters Swimming, USMS honored them in 1979 with the prestigious Ransom J Arthur Award. Zada completed 12 Alcatraz and 22 Golden Gate swims. She also set Masters records around the world and won her age group 17 times in the 2.4-mile Waikiki Rough Water Swim. Zada passed away in 2002.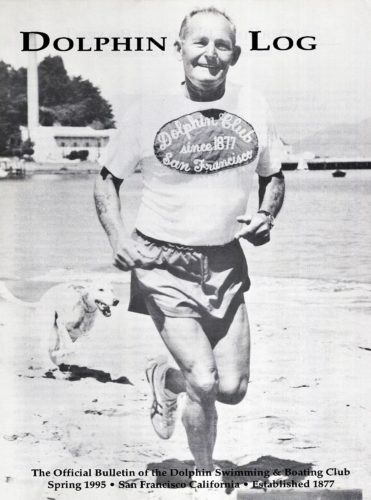 Walt Stack joined the Dolphin Club in 1965, became president in 1971, and served eighteen terms on the Board of Governors.  Walt was truly a one-of-a-kind character, famous locally for his robust lifestyle, stories, and jokes. His daily routine consisted of biking across the city to the Dolphin Club, running 17 miles bare chested over the Golden Gate and back, swimming in the cold bay, and then heading off to a physical construction job.  Walt was also well known nationally for running a dozen or more marathons a year. In 1966 he founded the Dolphin South End Runners Club that popularized the sport by emphasizing fun and welcoming women, children, and everyone regardless of ability.  Walt's motto: "Start slowly and then taper off." He also organized the first Double Dipsea trail race in 1970, now named the Walt Stack Double Dipsea. Walt died in 1995 at age 87.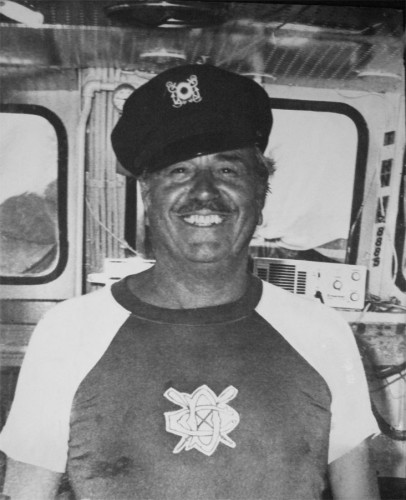 Frank "Cecco" Mennucci joined the Dolphin Club in March 1941 and quickly distinguished himself through his versatility, affability, and culinary skill. A native of Lucca, Italy, he emigrated to the United States as a boy; with his brother Vasco he later opened Mennucci Brothers Grocery on Greenwich Street. During his more than 50 years in the club he was a swimmer, handball player, oarsman, board member, and connoisseur of food, drink, and other earthly delights. Cecco died in December 1997 at the age of 88; "Il Giardino di Cecco," the club's beachside herb and vegetable garden, is named in his memory.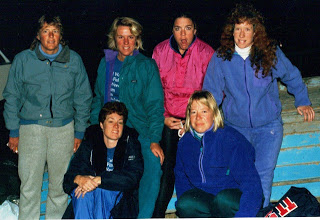 1989 
The Club's gender barrier fell in 1976, and the Dolphin women who joined in the early years are inspirations to us all. Yes, you're looking at the first American all women relay team to swim the English Channel!
Susan Allen, Susan Cobb, Lisa Smith, Carol McGrath, Joni Beemsterboer, Karen Drucker. Although Gertrude Ederle
paved the way with a solo channel swim in 1926, it took over half a century for six American women to follow in her wake. Together, they conquered the world's most prestigious marathon swim pinnacle in August, 1989 in ten hours and forty-eight minutes.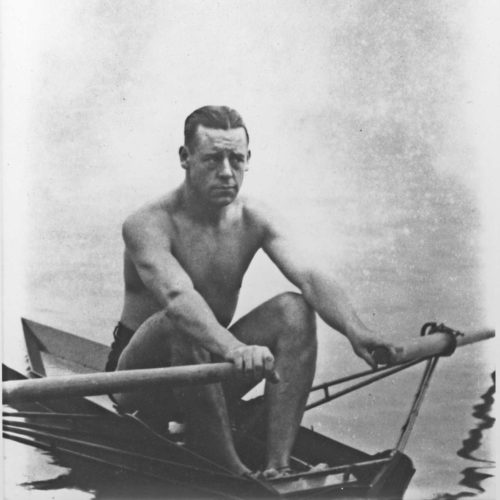 Lawton Hughes was born in San Francisco in December of 1899 and joined the Dolphin Club in March 1919. Like Jim Cronin, Lawton was totally committed to the Dolphin Swimming and Boating Club, holding many club offices: President in 1938 and 1966, Rowing and Swimming Commissioner for many years, and Treasurer for over two decades. He was sculling champion of the Pacific Coast in his class in the 1920's and 1930's and swam the Club Golden Gate Swim fourteen times. An aquatic legend, Lawton Hughes died in August of 1982 at the age of 82.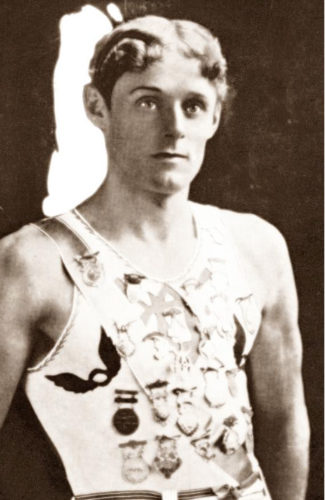 Alex Pape (Alexander William Pape) was born January 13, 1873 in San Francisco. In his youth Alex Pape was a strong swimmer and water polo player for the Olympic Club, San Francisco. He joined the Dolphin Swimming and Boating Club on November 11, 1896 to try rough-water swimming and his newest interest, rowing. Wearing Dolphin Club white and blue colors he quickly became a West Coast rowing champion. In later years Alex became equally respected as a coach, referee, benefactor of aquatic sports, and the best open-water swimming pilot of his era. Download the detailed story of Alex Pape as compiled by Rich Cooper, October 2015.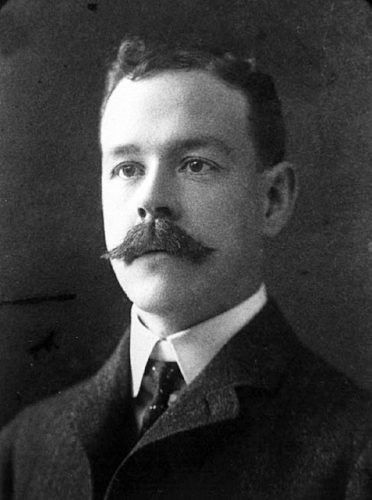 Charles "Pop" Farrell (seen here in 1902) was born in San Francisco in June of 1868. He joined the Dolphin Club in May of 1891. For most of his membership period Pop was involved in the struggle to secure Black Point Cove, now known as Aquatic Park, as a public recreation area. This dream was realized shortly before Pop's death in February of 1933 at the age of 64.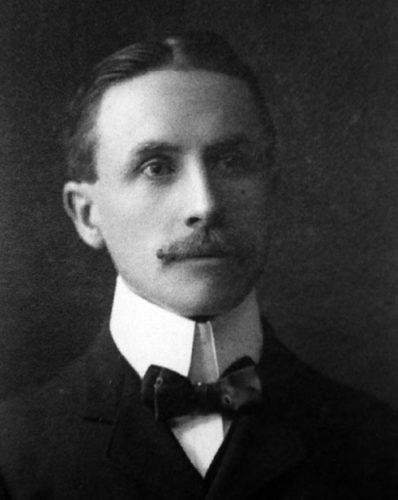 James John Cronin was born in San Francisco in 1866, and joined the Dolphin Club in May of 1891. Over the years he held practically every Dolphin Club office, including president, and served as Club treasurer for decades.  He did not miss a Club-to-Ocean Beach Hike from the first one in 1892 until the 1950's.  Jim was secretary of the Pacific Association of Amateur Oarsmen (P.A.A.O.) for thirty-five years, participating in just about every association social or athletic event held from 1891 until his death. Jim Cronin died in January of 1956 at the age of 89.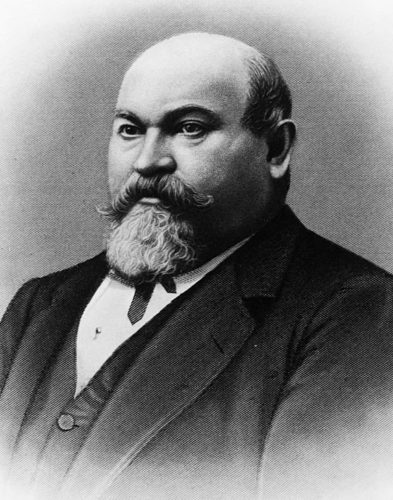 John Wieland an immigrant from Germany was one of the founders of the Dolphin Club. Wieland at first settled in Philadelphia, but in 1851, he set out for California. He mined enough gold along the South Fork of the Yuba River to move to San Francisco and go into the baking business. Wieland subsequently bought into the Philadelphia Brewery, a thriving San Francisco concern, finally becoming its sole owner and building it into the most successful and largest business of its kind on the Pacific Coast. He had few years to enjoy his success, for in 1885 his home caught fire and Wieland and several members of his family died in the blaze. John Wieland was only 55 years old. His family later donated the 6-oared barge, which bears his name, to the Dolphin Club.