The full name of our club is the 'Dolphin Swimming and Boating Club', and boating was at the heart of the club's original purpose.
For the first 50 years of the club's history, competitive rowing was more popular than even baseball. By the late 1890's, the Dolphin Club was one of the most well respected rowing clubs on the west coast. Members would race in fiercely competitive regattas against other local clubs. Tens of thousands of spectators might turn out to watch rowers from the Dolphin Club compete against local rivals. Large bets were placed by the public, and there was decent prize money for the winners.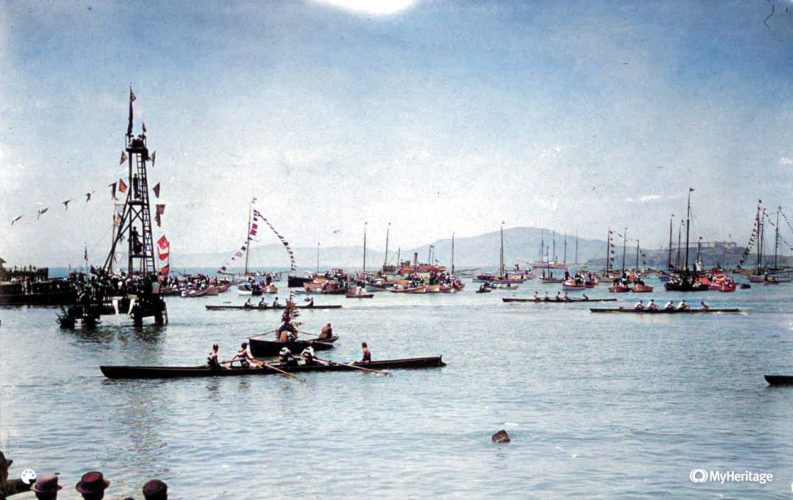 In those early days, the club owned a fleet of racing skiffs, shells, four-oared barges and pleasure boats not too dissimilar to the fleet we have today. With our position on the north shore of San Francisco, rowers trained in challenging waters, and the local styles of racing boats evolved to be both lightweight and seaworthy.
When rowing was at its peak, swimming at the club was mostly just a leisure activity. The club was founded before the front crawl had been invented! But in 1896 Dolphin Club rowers helped Australian Charles Cavill become the first person to swim the Golden Gate. In the following decades swimmers became more and more adventurous, and in 1917 the club supported the first ever group swim across the Golden Gate. Our double Whitehall 'Farrell' was built as a pilot boat for this event.
Over the next 50 years, swimming grew in popularity, and larger rowing boats were built that could carry both rowers and swimmers. Our fleet of wooden whitehalls is testament to this phase of the club's growth.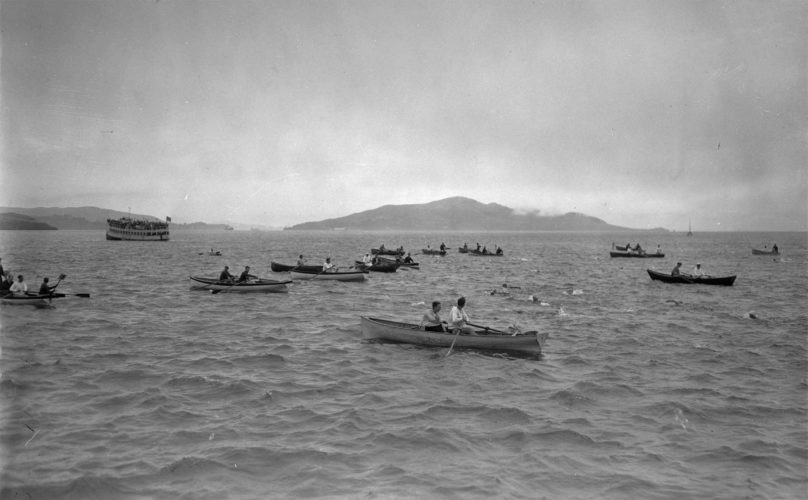 During this time, much of the competitive rowing moved to calmer waters, and the club opened another boathouse in Mission Bay. This was later moved to Lake Merced in the 1930s where the club still operates a satellite boathouse.
Many of the wooden rowboats built for swim piloting are still with the club and much loved by members to this day. Our boatbuilders continue to use traditional techniques and materials to maintain these craft, and members and guests are able to join in taking care of these pieces of history.
Composite plastic and carbon fiber have since replaced varnished Irish linen and spruce for the rowing shells, but you can still see some of the older skiffs and barges on display in the entrance way to the Dolphin Club and at the South End Rowing Club. The Dolphin Club fleet now has many modern open-water rowing shells ideal for our waters.
Kayaks, SUPs and motorized craft now also join rowboats for swim support, and the club offers a wide variety of boating opportunities for members to enjoy the incredible opportunities for boating recreation that lie on our doorstep.