If you're a swimmer looking to dip your toe into boating, or a boater wanting to dip your toe into swimming, our prone paddleboards might be for you.
The club now has two new paddleboards. These are successors to the yellow prone boards that were used at the club for many years.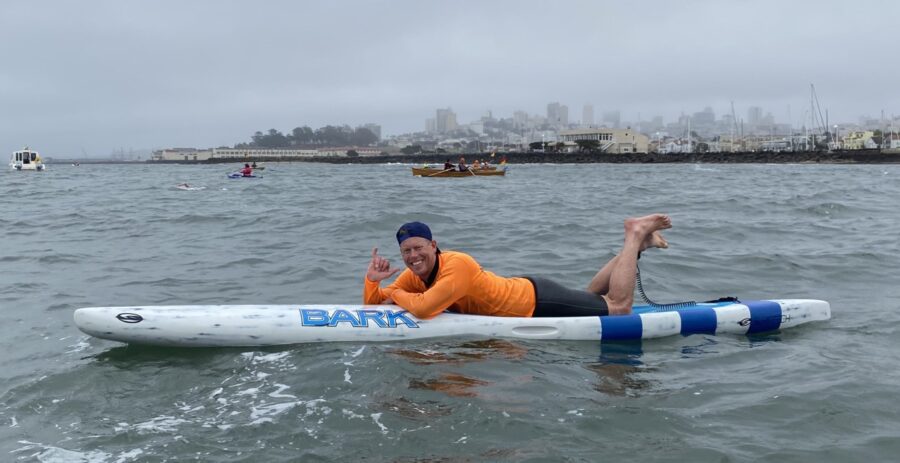 Prone paddleboards are quite similar to surfboards. But rather than surf waves, you just swim with them. The stroke is similar to swimming, but you'll move a lot faster. You can kneel on them too, but, you can't really stand up on them. For that checkout our Stand-up boards
We currently have two boards in two different sizes… the green one is 12', and the blue one is 14'. You can find them on the wall in the Zahler Boathouse.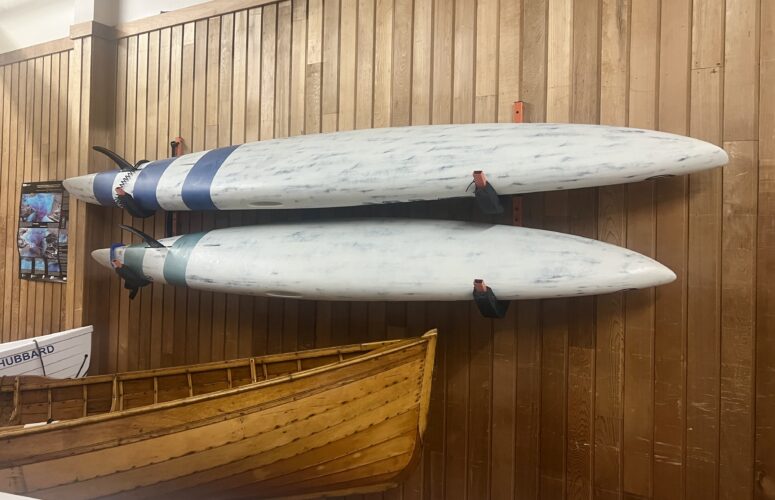 You can use either one, but if you weigh less than 180lbs, you'll probably prefer the shorter one, and if you're heavier you'll probably want to use the big one.
Guidelines for Use
Store them DRY!
We store these boards indoors, so please dry them fully after use.
Stay within swim boundaries, until you've become certified.
The swim boundaries are the cove and along the breakwater to Creakers and along to Fort Mason. Certified means you've passed our Bay Safety Test and have been checked out by a paddleboard instructor.
Dress to get wet
You are likely to get wet and fall in using these. In the winter you'll probably want a wetsuit, and in the summer you may just need sun protection.
Be Visible
You don't want to be run over by a boat so wear a bright colored top
Check them out in the logbook
And we treat these like boats, so please check them out and sign them back in the log book.
PFD Optional
The law does not require you to use a lifevest as long as you wear a leash. But if you have any doubt about your swimming ability, bring one… the wingman lifevests are the most suitable.
Preparing the Board
Use Slings to Prepare and Dry Off
Before you go for your paddle, place a couple slings outside. You'll want to put the board in these slings to check everything is ok. Leave them there for when you come back so that you have a place to dry them off.
Paddling
When you're ready, take your prone board down to the beach. These boards are susceptible to dings, so please be careful not to knock things along the way.
There's not much to it. Take the board to the water and place it waist deep.. Hold your board on either side where the soft pad ends near the front, …. And then lie on the board and find a balanced position. Your chest should fit into the recess of the board
Once you are comfortable, start paddling. It's a lot like swimming. Just try to reach as far ahead as you can, and roll the board a little with each stroke.
Be aware that the boards don't turn very quickly…. If you want to turn, you'll need to make multiple strokes within one hand. You may find the board will turn quicker if you sit up, and pivot with your hands.
Also…
Watch out for swimmers
It takes a little getting used to at first. Give yourself and others plenty of room.
It can be quite tiring at first
And be careful if it's windy and stay within your limits. If you're not strong, it's easy to get blown around.
Look after your shoulders.
Paddle keeping your arms close to the board, and don't spread your arms too wide.
Look after your neck too.
You don't need to lift your head too high. There is a sweet spot for everyone, so work on finding your most comfortable position before paddling away. Some people find that it helps to have a foam block to support your chin.
You can also paddle on your knees.
This is easier said than done, but watch a few videos and experiment and you'll get the hang of it.
Putting Away
After you're done, bring the board back to the slings and rinse and dry them off. You can find some towels just inside the door of the boathouse. Be sure to dry the foam part enough so that it doesn't drip on the floors.
Then all you have to do is sign the board back in, and you're done!
If you have questions, contact our prone-paddleboard ambassadors. Jari, Amanda, James and others at proneboards@dolphinclub.org