Surfskis are essentially longer sit-on-top kayaks. But they're faster, more agile, and a great athletic workout. They're fun to take out and play in the waves on a windy afternoon. They are also less stable and require more skill.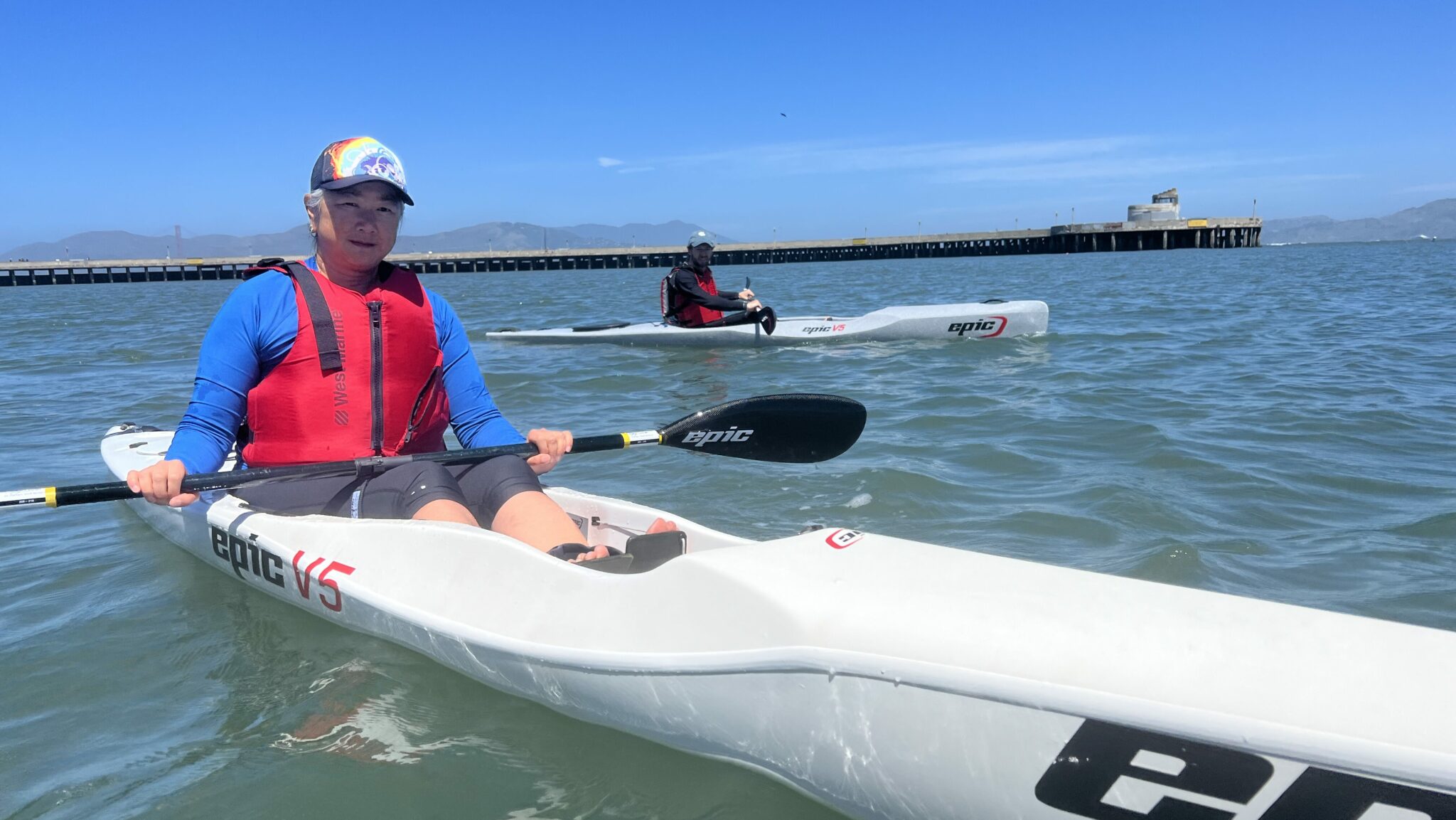 Surfskis are different enough from kayaks that we ask you take an orientation before using them. As a prerequisite, you should be a confident kayaker.
In your orientation, we'll run you through our fleet, how to prepare the surfskis, safety considerations, go out for a paddle, practice technique and remounting, then return and put-away. Orientations typically last 2 hours.
After orientation, you'll be welcome to join group paddles with other certified paddlers which are usually announced on our WhatsApp group.
Before paddling outside the cove by yourself, you'll need to become certified. Certified means you understand Bay Safety, take the test, and be checked out by one of our surfski instructors.
Let us know you're interested by filling out the Training Request form, and select Surfskis.
Orientation
When you come to your orientation, come prepared to get wet. In winter you'll want to wear a wetsuit, and that probably isn't a bad idea in the summer months too. Falling out is a common experience in your first outings, and you'll practice remounting in your orientation. If paddling without a wetsuit, be sure to wear synthetic layers which won't make you cold once wet.
Surfskis have many similarities to our sit-on-top kayaks, but also some notable differences:
Longer and Narrower
The surfskis are longer and narrower than our basic kayaks. This makes them faster, but also less stable. Your chances of falling out are much higher.

Sit Upright, Knees together
In a surfski, you sit with your knees together, rather than laid out. This will help you transfer body movement into forward movement, but also makes things a little less stable.

Rudder
The surfskis have a foot-steered rudder which allows you to easily and quickly adjust course. The rudder is attached to the rear of the surfski and is prone to damage. Surfskis require a little more care to care of.

Shorter Smaller Paddles
Balance is achieved in a surfski partly through the paddle contact water. Surfski paddlers typically have a faster higher stroke rate, which helps with balance.
Our Fleet
The club currently owns four surfskis of different lengths.
v5
This is the easiest surfski to start with. It's wider and more stable.
v7s
We have two v7 surfskis. These are longer and narrower, a little faster and a more tippy.
v8
The v8 is a narrower composite (fiberglass) surfski. It's more fragile than the others and stored in the Zahler Boathouse. Once you're certified, and you have plenty of surfski experience, and you are helping to teach others, you can start using the v8.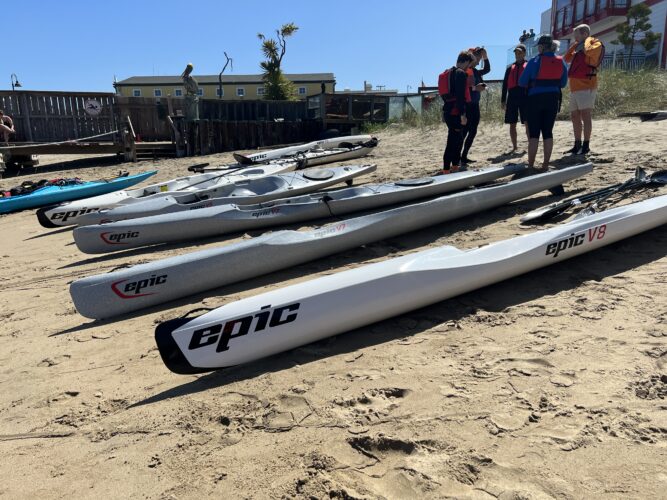 Preparation
All the rules for kayaking apply to surfskis. Before going out you should:
Have a current membership with US Rowing
Sign the boat out at the podium
Wear a life-vest.
Bring a VHF radio if going out of cove away from shore.
Pre-Paddle Inspection
Before going down to the beach, set out some slings out, and give the kayak a pre-paddle inspection.
Check the rudder is centered with the foot pedals even. (It should be)
Adjust the foot pedals to your foot length
Make sure hatch and bungs are closed.
You can carry the boat down the beach using the side-handle, but it's easier with two people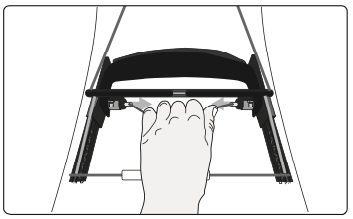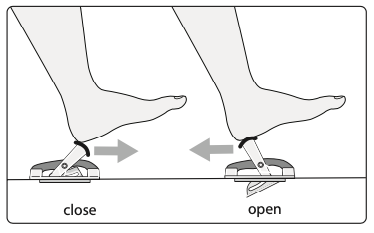 Launching
Don't launch from the beach when the surf is high. You could be hurt by a pounding wave. The dock can always be used to launch a kayak and surfski.
When you do launch from the beach, you should walk your surfski far enough into the water so that your weight is not resting on the rudder when you sit inside.
Hop in, paddle out. If you're coming from regular kayaks, your first few minutes will feel strange, but you'll soon get the hang of it.
Attached to the surfski is a leg leash. You should attach this to your thigh so that the boat will not blow away from you in the event of a capsize.
On the Water
There's much to learn about paddling a surfski. Others can tell you, but it's much better to watch some videos and go practice. Here's are some to start with:
The Basic Stroke
Remounting Your Surfski
It's a rare day that you fall out of a regular kayak. But you might fall out of a surfski multiple times in one outing, so it's important that you're comfortable getting back in.
As you try out rougher water, you'll want to become confident and comfortable remounting your ski. Here's another great demonstration of remounting in rough conditions
Return & Putting Away
Hop Out Before You Hit the Sand
When returning to the beach with your surfski, you should be ready to hop out before the boat hits the sand. Unhook your feet from the foot rest and step out as best you can.
Return to Slings to Rinse Off
Be sure to give all the moving parts – rudder, pedals, paddles, etc a good rinse. Get any sand off.
Get Help Putting it Away
Many of the surfskis are stored on higher racks. Find an extra hand to help you put them away.

Then sign the boat back in, return PFDs and radio, and you're done.
Extras
Recommend you watch this great video series from Oscar Chapulsky