San Francisco Bay is one of the most diverse and interesting estuarine systems in the world. And for rowers, kayakers, surfskis, SUPs, sailors, windsurfers, it is also one of the most fun and exciting marine playgrounds you could hope for. It provides a huge variety of conditions that are fairly predictable. But there is a lot going on, and it can also be dangerous if not treated with respect.
San Francisco Bay stretches from the Golden Gate far far inland through San Pablo Bay, Suisun Bay and all the way to Sacramento and Stockton 90miles away. Every year some Dolphin club members will row to Sacramento; some have even swam it.

You might enjoy this video on the formation of San Francisco Bay.
For the purposes of this guide we will mostly cover the central San Francisco Bay and the area within 10 miles of the Dolphin Club. Even in this area, there is a huge diversity of environments.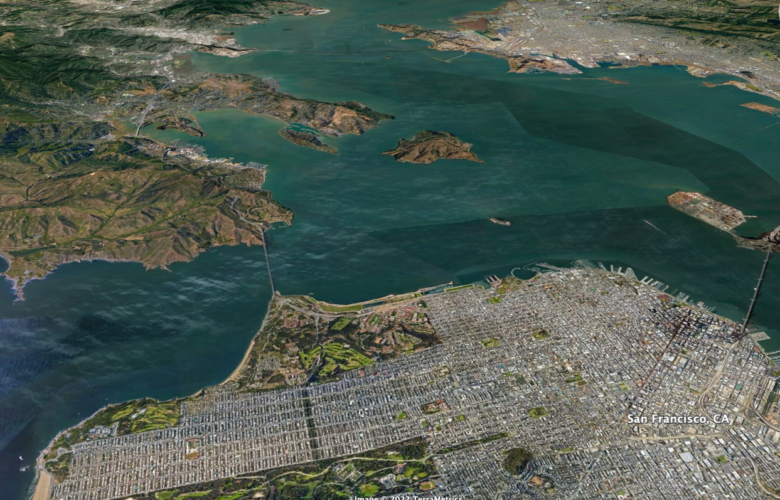 << Add thumbnail pics to show the variety >>
Charts
Google Maps and satellite photos are great for understanding the land around you, but now you're a mariner, you should learn to use charts.
Charts are nautical maps, and they give you information you need to know as a boater. This includes shipping channels, water depth, buoys, recognizable landmarks and other important information for mariners.
You can download copies of NOAA's official nautical charts for SF Bay here
https://www.charts.noaa.gov/PDFs/18649.pdf
https://www.charts.noaa.gov/PDFs/18650.pdf
Today, many people use apps on their phones for navigation. One of the most popular apps is Navionics. It will help you see where you are, and allow you to track your route. If you're on the water a lot, it's a very useful app to know.
Navionics also has a web based online chart of San Francisco Bay. Take a look at it now. (You may want to use it for your test.)
Knowing our waters and what to expect will help keep you safer. Below are some of the highlights of what to expect, and also a few things to watch out for. We'll go into hazards in more detail later in this guide.
Towards the Golden Gate
The water heading west from Aquatic Park towards San Francisco tends to be the most safe.
Fort Mason
San Francisco Marina
Wave Organ / Coghlan Beach
Crissy Field
Blackaller Buoy
Things to watch out for:
YRA (Yacht Racing Association) Buoys.
Be aware that there are several large buoys that can take you by surprise if you are not looking where you are going while rowing.

Swimmers
Swimmers are becoming increasingly adventurous in recent years. You can expect to encounter them swimming outside the breakwater, towards Fort Mason, and also along the shoreline at Crissy Field. Keep a very sharp eye out when rowing close to shore. In fact, better not to row too close to shore.

Golden Gate Bridge and Beyond
The Golden Gate bridge has strong currents. Avoid going near the bridge until you've developed significant experience on the Bay. You should seek the Boat Captains permission before going beyond the bridge.
Along the Cityfront
Protected entrance to Aquatic Park at 'Creakers' (the Fisherman's Wharf entrance side)
Pier 39… don't enter the commercial harbor
SF Piers.. Watch out for current at Pier 27 (cruise ship terminal)
Watch out for ferries arriving/departing from piers. Wakes. Current around the piers.
Ferry Building and Pier 1½
Bay Bridge
McCovey Cove and beyond
Things to watch out for:
Leaving / Entering through Creakers.
You are likely to encounter fishing vessels and commercial traffic in this area. Stay on the right side (i.e., city side) of the channel when entering and exiting.

Vessels Departing from Piers
Look for traffic before crossing in front of marina entrances and the piers where ferries dock. Be especially careful around the Ferry Building, Pier 23, Pier 33 (Alcatraz ferry), and near Pier 41. Keep an eye for smoke from the engines or prop-wash that might indicate a ferry is preparing to leave. Avoid getting too close to cruise ships.

Current Pushing under Piers
On days with strong currents, it's possible that you can find yourself swept under piers that stick out into the current. Give piers a wide berth, and stay alert. This is a particular issue at Pier 27 (the cruise ships terminal)

Seal & Sea-lion haul-outs
There are numerous seal and sea-lion haul-outs around the Bay. You will often find sea lions hauling out on the docks in Aquatic Park and Pier 39. Give these animals plenty of room. If they are looking at you and worrying about you, you are too close.
Out in the Bay & Beyond
Once certified, you may row away from shore out into the Central Bay and to destinations beyond when conditions permit. Such trips should not be taken lightly. You will likely experience commercial traffic, more current, rougher waters and stronger winds, and you're more at risk if things go wrong.
Alcatraz… Be aware of commercial shipping.
Buoys
Angel Island… long distance.
Treasure Island
Sausalito
Paradise Cove (Tiburon Peninsula)
Beyond…
Things to watch out for:
Birds
You'll often see pelicans and cormorants drying their wings on rocks, and along the breakwater towards Creakers. Don't get too close. If birds look worried or seem to be preparing to fly in anticipation of you, you're too close.

Nesting Season on Alcatraz
March to August is nesting season on Alcatraz. Nesting seabirds can easily be scared off by small non-motorized boats leaving their nests unguarded for waiting seagulls to dive in to eat the chicks. During this time particularly, give the island a wide berth (100m/300ft).

Whales
Occasionally you may be lucky to see a whale in the Bay. Hopefully you will not get to see a whale up close. These are large animals and you are required by law, and common sense, to keep well clear.

Sharks
Just kidding. Though if you do see one, take a pic and post it to the mailing list!
Other things to Watch Out For
Wakes
Large vessels and ferries can produce big waves (wakes) that can take you by surprise long after they pass. If you see a wake coming, it is best to cross it at a 30-45 degree angle.

Rocks
They blew up a variety of large rocks in the middle of the bay at the turn of the 20th century. But there are still some smaller rocks that can get you in trouble. Watch out for Little Alcatraz at the North tip of Alcatraz, Anita Rock off Crissy Field, and avoid getting too close to shorelines you don't know.

Piers
Rowing boats don't fit well under piers. Give them a wide berth. This is particularly important when there is current running that may sweep you under them. Pier 27 and Fort Mason are notorious for this!

Restricted Areas
Keep 100' from bridges and abutments and keep 100' from large ships at dock. Give the cruise ships at Pier 25 plenty of space.
For restricted areas further afield, take a look at this guide: https://www.bask.org/off-limits/