The club owns half-a-dozen standup paddleboards. The ones with the blue bottoms are stable, easy to paddle and recommended for most paddlers. If you are in the mood to race or get a better workout, there are a couple longer narrower boards available behind the weight room.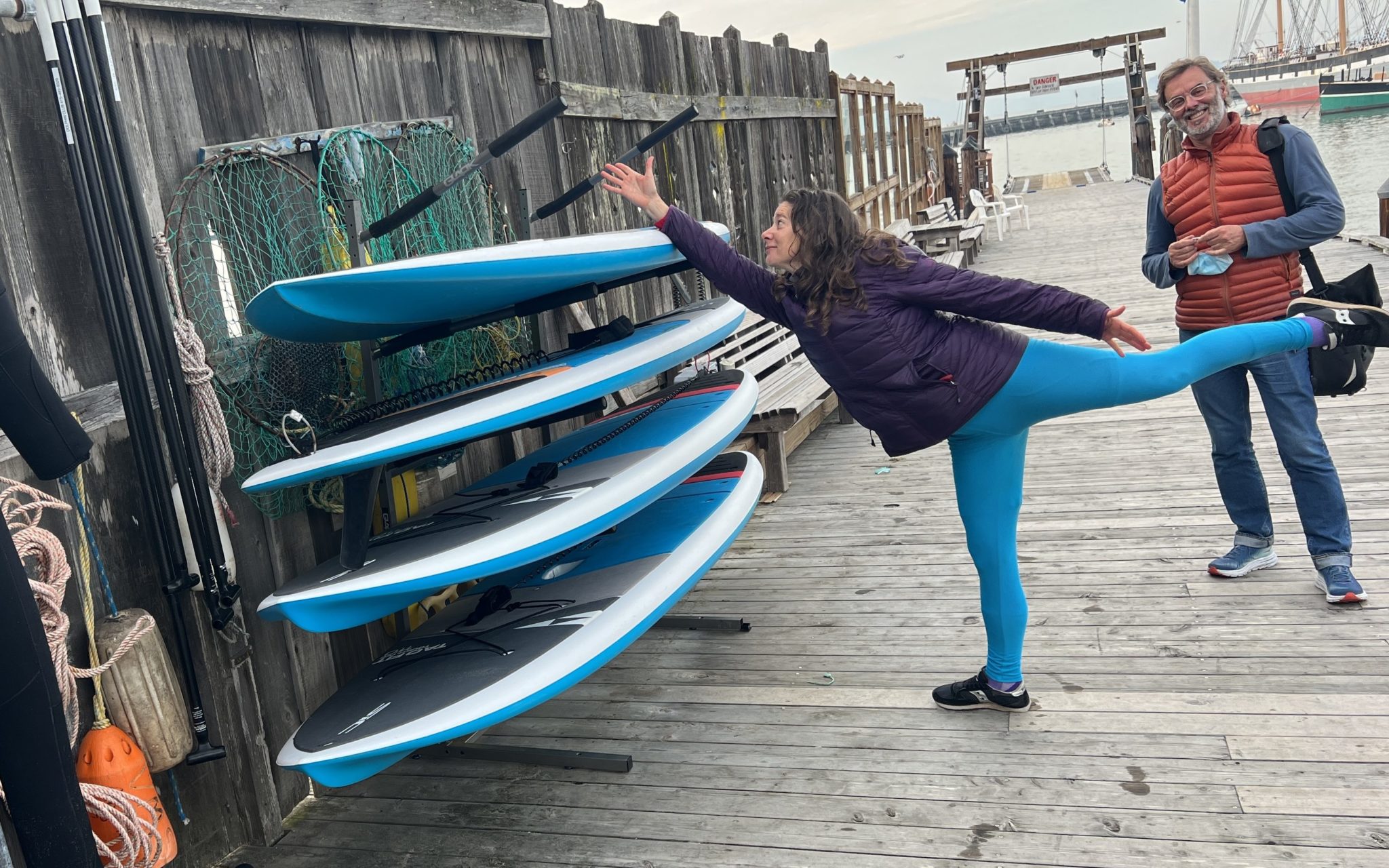 Members, who swim regularly, may use general purpose boards within the cove after an orientation from any other certified SUP paddler. They should take you through:
Sign-in/Sign-out
PFD and Leash Usage
How to carry the board. Taking care of the fin.
How to paddle.
Put away.
If you already have experience paddling SUPs, you can do the orientation by reading this guide and watching the video (coming soon)
Out-of-Cove Certified Paddling
Before taking a SUP out of the cove by yourself, you should be certified by one of our SUP instructors. Certification is just a check that you understand the conditions of the Bay, how to look after yourself, others, and the boat.
Certification will include:
You should read and understand the Bay Safety Guide and pass the quiz. (in development)
Go on an in-person check out paddle with an instructor. Demonstrate skill in launching, maneuvering, using and caring for the boards,
Demonstrated swimming ability for 10 mins in the water.
Certification will be signed off in the log book.
What to Wear
If you're new to paddling, or if the weather is windy and the water lumpy, you should be prepared to fall in. In winter, this probably means wear a wetsuit. In summer months, you may be fine with synthetic layers.
If you are expecting to be on the water for a while, such as piloting a swim, dress extra conservatively. If you fall in, the wind will sap your body warmth quickly. If you're not moving, you can quickly get cold.
This is a good guide and worth the read:
https://www.101surfsports.com/index.php/surfski/what-to-wear-surfski-paddling-san-francisco-bay
Preparing the Board
Sign Out
Check the board

Damage and dings
Paddle
Leash

Adjusting the Paddle
PFD
Plan your Trip
A good standup paddler can paddle between 3-4 knots. This is often less than a strong current. Pay attention to the currents before you go out. Stay away from Hyde St pier and don't go towards Creakers on a strong flood.
How to carry the board
Laying the Board on the Ground / Protecting the skeg
How to Paddle
Good Syllabus:
https://cdn.ymaws.com/www.americancanoe.org/resource/resmgr/SEI-Courses/L2_SUP_Skills.pdf
Launching
Don't launch when waves on the beach are big.
How to hold the paddle.
Kneeling before standing…
Sitting and Paddling
Technique
When paddling long distances, use your core muscles by twisting your waist as you paddle. Paddle about six strokes per side, then switch to the other side to maintain a course towards where you want to travel.
If the wind is coming from one side, you may find yourself needing to paddle more on one side than the other.
Falling Off
Hold on to your paddle if you start to lose your balance. Resist the instinct to grab your board as you fall as you might hurt yourself. Fall to the side, then swim back to the board and get back on.
Swimmer Recovery
As a certified stand-up paddler, you'll be a welcome addition to organized out-of-cove swims.
If you encounter a swimmer needing assistance, bring your board alongside, kneel or sit down, and scoot back towards the back of the board to allow the swimmer to pull themselves on the bow.
Return & Put Away
When returning to the beach, watch out for waves behind you and wait for a lull. Get down on your knees or sit as you approach the shore. Once in waist high water, you can jump off the board and hold it in your hand. Grip your board by the handle and carry it ashore.
If the waves appear to have got bigger, you can always land the board at the dock too. You do not need to launch or return to the beach.
You'll find it's easier to pick your board up while it's still in the water rather than dragging it onto the beach first. Watch out for the skeg as you pull the board up from the beach.
Danger: Rough Water & Currents
Know your limits. While row boats are limited to 15kts of wind, even 10kts might be too much for a standup paddleboard. Progress carefully.
Wind, rough water and boat wakes are common challenges you will face when paddling out of the cove. When a wake comes at you, point your board directly into the wave.
In rougher water you'll want to bend your legs and lower your center of gravity.
As conditions worsen, you can transition back to kneeling or sitting for more balance.